Ambassador Amunugama met the six Hon. Consuls of Sri Lanka for Germany at his official residence to discuss plans to be adapted for future coordination.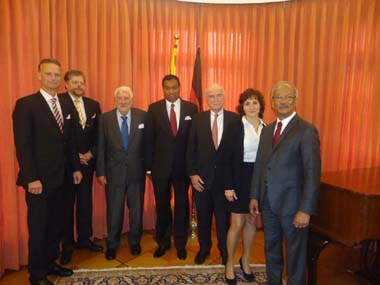 While thanking the Hon. Consuls for their long period of service for the promotion of Sri Lanka in the different regions of Germany, the Ambassador elaborated the initiatives the Government has taken to develop the country and the strategies instated to drive economic growth.
Embassy officials discussed during the meeting actions to be taken to promote the trade & economic relations, education opportunities by entering MOU between German Universities and Sri Lankan Universities, promoting Foreign Direct Investment from Germany, obtaining technical education and tourism promotion, achieving the target of making Sri Lanka the commercial hub in Asia.
As Germany has 16 Federal States, which have their own administration, the Ambassador emphasized the importance of the Hon. Consuls to coordinate with these States in order to ensure their cooperation to achieve the common objectives.
Providing information on the potential for investment in Sri Lanka, two documentaries on Colombo Port City and investment opportunities by BOI were screened .
Mr. Olav C. Ellerbrock, Hon. Consul in Hamburg. Mr. Norbert H. Quack, Hon. Consul in Stuttgart, Mr. Thomas Kriwat, Hon. Consul in Bremen, Dr. Dirk Lutz Büscher, Hon. Consul in Leipzig, Mr. Nihal Samarasinha, Hon. Consul in Mainz, Ms. Katrin Drechsel, Secretary of Mr. Hans Hammer, Hon. Consul in Munich, participated at the meeting.
The Hon. Consuls assured working jointly with the embassy and agreed to meet on a regular basis to evaluate progress.
Ms. C.A. Chaminda I. Colonne, Deputy Chief of Mission, Mr. G.L. Gnanatheva, First Secretary (Commerce), R. Kohularangan, First Secretary Mr. R.N. Wijesinghe, Second Secretary and other officials of the Embassy participated at the meeting.