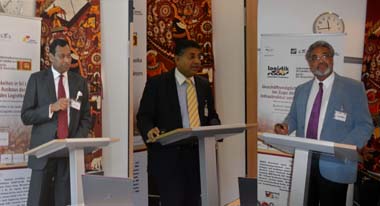 The Federal Ministry of Economic Affairs and Energy (BMWi) with the co-sponsorship of Sri Lanka Embassy in Berlin organized a successful seminar with the participation of over 40 potential investors, bankers and logistic operators in Berlin on 28th November, 2014. BMWi identified Sri Lanka as target market for this year's informative event and for the German Companies who are interested in new markets or business partners in Sri Lanka.

Highlighting the 'General Economic situation and development trends in Sri Lanka' Ambassador Karunatilaka Amunugama stated that Sri Lanka is the most peaceful and politically stable country in the region, which has a steady and continuously high economic growth of 7.5% in the last four years.
After years of civil war, rapid expansion of Internal & External transport network and communication, Social stability with low unemployment and low income disparities, high ratio of basic utilities, such as water, electricity, housing etc., Strong policy to protect environment with low emission to encourage removable energy were highlighted by Ambassador Amunugama as key factors for German investors to consider Sri Lanka as their next destination for investment.
The high growth in the tourism industry and entry of large number of international hotel chains such as Shangri-LA, Hyatt, Marriott, Sheraton, Six Senses, Mövenpick, Minor International, RIU, Banyan Tree, ICT, Best Westin are good indicators of the political stability and growth potentials in Sri Lanka. Sri Lanka has got into a true new wave of development with a promising economic out look to move rapidly towards a higher income level over the next decade. Building up the 5 hub centric economy to capitalize on strategic advantages in emerging Asia and attract international attention would be Sri Lanka's key economic development strategy.
Ambassador Amunugama explained how German investors could be benefited by Sri Lanka's existing Free Trade Agreements with India, Pakistan and upcoming Free Trade Agreements with China, which would connect to the world's largest economy. The saturation of certain economies in the region, places Sri Lanka in a more advantages position to be able to persuade investors to look for options in Sri Lanka.
Managing Director of the Sri Lanka Ports Authority Nihal Keppetipola presented an overview on 'Market opportunities and market entry possibilities in the Sri Lanka infrastructure and Logistic sector'. Significance of Colombo and Hambantota Ports in Sri Lanka's strategically location was emphasized. Capt. Nihal intimated that ships up to 24000 TEU capacity would be soon plying the Asia-Europe shipping route. With the German shipping line Hapag-Lloyd's merger with the Chilean line CSAV, the top four lines in the world, i.e. Maersk, MSC, CMA CGM & Hapag-Lloyd would now carry over 40% of the world's container capacity. These vessels will be routed via Sri Lanka. As the developing mega maritime hub of the India Ocean, the demand for port utilization in Sri Lanka will be high in future. He welcomed German Investors to invest in the Colombo Port expansion Project West Terminal with 2.4 m TEU capacity, Colombo Port City project as well as in the Free trade Zone development projects in Hambantota Port. He also invited the buyers for pre-briefing scheduled to be held in Colombo at the end of December 2014.
Siddhalepa Group Managing Director and senior member of Sri Lanka-German Business Council, Asoka Hettigoda also elaborated on the Sri Lanka-Germany business relations. He stated that by investing in Sri Lanka a German investor could reach 3 Billion population via existing and intended FTAs of Sri Lanka. He emphasised that there are vast opportunities available in the fields of Pharmaceutical, Ayurveda, and Tourism etc. in technologically advanced country like Sri Lanka where high literacy rate exists.
Chief Executive Officer of Mercmarine Group and Honorary Consul for Sri Lanka in Bremen Thomas Kriwat shared his experience in doing business in Sri Lanka for many years in the field of Marine Training and recommended Sri Lanka as a very favorable destination for German SME Business investors.
Wilhelm Hervert of A.H. Meyer Maschinenfabrik GmbH explained his experience in manufacturing fiber tubes using Sri Lanka's coconut fiber, which is the most durable natural fiber in the world. He said that his products are exported to the world market including the US, EU states.
Maria Andronikidou and Ann-Christin Wehmeyer President and Vice President of Sri Lanka Bridge e. V. respectively, conveyed their keen interest on bridging the gap between German and Sri Lankan businessmen and making them together.
Ekkehard Stein of Kanzlei Paule & Partner outlined on the legislation, taxation, customs and import regulations in Sri Lanka.
On behalf of Logistic Alliance Germany e.V. (affiliated to the Federal Ministry of Transport and Digital Infra Structure) Associate Director Mirja Schwarz briefed the participants on how Sri Lanka could be benefited from Logistic Alliance Germany, especially in the logistics of transport Sector and conveyed her keen interest in cooperating with authorities in Sri Lanka.
Senior Investment Manager for Sri Lanka Matthias Goulnik of Deutsche Investitions DEG GmbH (where KFW is the parent Company) detailed on financing opportunities for German Companies in Sri Lanka. DEG finances only in commercial term. Sri Lanka is a listed country for financing by KFW and invited German Investors to reach this blooming market in Asia and to forward their project proposals to DEG GmbH, having finding a correct sponsor/coordinator in Sri Lanka.
At the end of the day's seminar a Q & A session was held, where it was noticed a great enthusiasm of German Investors in investing in Sri Lanka.
Thomas Nitch of the Systems for Business Solutions (SBS) made arrangements for the event on behalf of the Federal Ministry for Economic Affairs and Energy (BMWi)