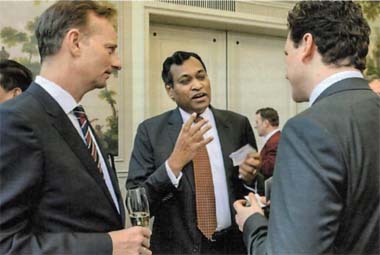 The annual founding anniversary of the Ostasiatischer Verein Bremen (OAV, or East Asian Association Bremen) is of special significance for the trade city Bremen. Also the 114th edition in late February turned again out to be a highly valued platform for cultivating contacts and exchanging information about Asian topics. Links to the Asian region are close. The charity work of the relief organisation Hilfswerk Ostasien was supported with a collection of donations. The festive curry dinner with some 400 guests took place in the upper hall of the town hall. Previously, the traditional reception was held at House Schütting. Vice-President Eduard Dubbers-Albrecht welcomed the guests at the chamber of commerce. Among the guests were six diplomats from the East Asian region: Karunatilaka Amunugama, Ambassador of Sri Lanka, Rodney Harris, Ambassador of New Zealand, Takeshi Nakane, Ambassador of Japan, Soe New, Ambassador of Singapore and Muhammad Ali Sorcar, Ambassador of Bangladesh.
The guests of honour this year were: Professor Esenbel Selcuk of the Bodacizi University in Istanbul, Germany's Labour President Ingo Kramer and Dr. Datuk Wong Lai Sum, Chargé d´Affaires of Matrade, Malaysia's external trade promotion agency.
The East Asian Association Bremen was founded in 1901. It celebrates with the founding anniversary each year its existence. In addition to the main purpose of the association, promoting friendship and mutual understanding with the countries of Asia, the relief organisation Hilfswerk Ostasien e.V. was founded in order to be able to mitigate hardships quickly and without complications in acute cases and to support activities that create new links in Asia.
Source: Wirtschaft in Bremen 4.2015, p. 44